Wadi Qelt, a Valley of Light in the Wilderness of Judea
Mostly uninhabited through history, Midbar Yehuda (the Judean wilderness) has been the perfect place for those seeking solitude. King David, John the Baptist, and even Jesus came here searching for refuge and Herod the Great built two fortresses (Herodium and Masada) in this region for protection during revolts against his cruel ways.
Draining a good part of the Northern Judean wilderness, we find Wadi Qelt. Wadi, in Arabic, means a valley, ravine, or channel that is dry except in the rainy season.
The Ascent to Adummim
As Wadi Qelt travels from West to East, crisscrossing the Judea Wilderness, it gives refuge to the ancient "Ascent of Adummim", the main route from Jericho to Jerusalem. Along this traveling path, some of the most famous episodes of the Bible took place: David fled from Absalom (2 Sam 15–16), and King Zedekiah escaped from the Babylonians (2 Kgs 25:4). the story of the Good Samaritan as told in Luke 10:25-37 had this area as a background; Jesus used this road to travel from Jericho to Jerusalem, and even the 10th Roman Legion on their way to destroy the city in 70 AD. Although there is no actual proof of it, popular belief has that the "valley of the shadow of death" from Psalm 23:4 in the old testament is Wadi Qelt…
A Centre of early Monastic life
In case this could have been true, the so-called 'Valley of Death' was soon filled with a myriad of luminous stars and saints brought by a monastic life. In fact, at the very peak of the Byzantine period, around the 6th century AD, the Judean dessert already counted with nearly 65 monasteries. Linked by a network of trails, the average distance between them was 2–3 miles (3–5 km).
Like a flower of rare beauty, St George Monastery seems to spring up from the walls of rock, at one of the gorges of Wadi Qelt; pilgrims today can see and even visit St George Monastery, founded by Abbot John of Thebes in 480 AD. Walking through the Judea wilderness on a late afternoon, you can ascend to one of the surrounding hills and contemplate the striking scene.
What makes St. George Monastery so special?
Besides the magnificent Biblical majesty surrounding this monastic house, the upper part of the monastery holds the very cave chosen by Elijah the prophet to take shelter in.
Here, ravens would bring him bread and meat in the morning and evening, and he would drink from the nearby brook.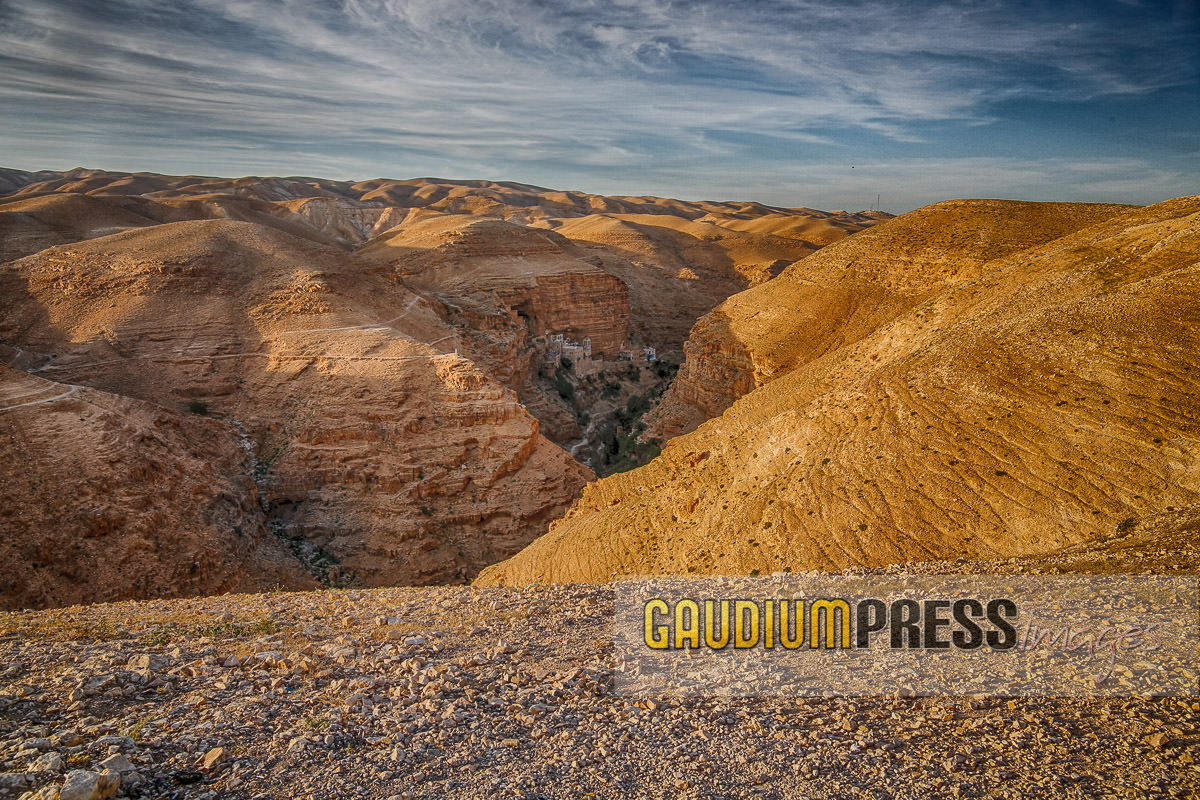 ____________
Tips for visiting
How to get there:
St George's Monastery can be reached via the main Jerusalem – Dead Sea highway (Road 1). Take a left at Mitzpeh Jericho (or a right if you're coming from Jericho) and follow the brown signs for Wadi Qelt.
What to Pack
If you are hiking, Sunglasses and a hat are always a must. Remember: even in Winter, you'll find the sunlight is stronger than what you're accustomed to.
Next: This is a desert after all; pack plenty of water.
And one more thing: Israel's holy places are very strict on dressing codes. Dress accordingly.
Don't forget a comfortable hat and comfortable shoes, or already trusted and well-worn hiking boots; I say well-worn, as out-o-e-box brand new hiking boots mean sure blisters…
As per other important tips for traveling in the Holy Land, visit our post on Qumram.
Recommended websites
Bibleplaces.com is a must-read before visiting the Holy Land.
En Prat Nature reserve: Helpful site for preparing a hike on the Ascent of Adummin area.
I gloogled Israel has a very informative article on St George Monastery.